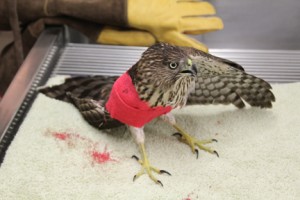 Attached are a few photo's of our 3rd wildlife rescue of the day. This stealthy Sharp-Shinned Hawk was rescued by our team, after being mauled by 2 dogs Friday evening in Buellton. The bird flew low crash landing into a  fenced yard, and  was unable to escape being attacked by 2 dogs.
The home owner called 911, Sheriff dispatch then called our rescue hotline. After being rescued the bird was immediately rushed to Solvang Vet. Hospital and treated by our team Veterinarian, Sheri Macveigh, DVM. The bird will require surgery in an effort to save it, for release some day.
 Thank you for your support,
 
Photo's taken By Arthur White, from our advisory board.