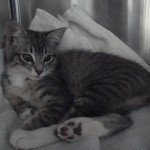 Hi all,
Yesterday i received a distressed call from a guy in Lompoc, named Anthony. He found this cute female kitten lying in the road. He couldn't fathom  leaving her there to be struck by a car again and again. He took her to work, then called several animal agencies. He was told by all he called, that he could bring the kitten in for euthanasia, and that was all anyone could offer the kitten. He called us, NO DOES NOT exist in our vocabulary, so we took her in. Last night Dr. McKenna of Solvang Vet shot x-rays. She has a fractured femoral head, hip, pelvis as well as a fractured sacrum. OUCH! Neurologically she seems to be functioning. She does need orthopedic surgery to save her. Dr. Mcveigh of Solvang Vet thinks we can have this done for approx. $500. I have named her Gidget, because she is so midget sized.
I am asking for everyone's help. PLEASE send a donation to Solvang Vet, under ART, or thru our pay pal, or by mail.
We need your help to save this little precious soul.
Today along with Lompoc sheriffs we were able to save a fawn that was hit by a car that left the scene. Dr. Pankau treated the baby. This too will be a costly vet bill.
Terri Romero has offered to foster the kitten after her surgery,
She too will make donation jars that we can display at El Rancho, The Feed Store, Outpost Trading Company, and whatever else we can
come up with,
Thank you all for caring,
Love,
Julia J. Di Sieno
Executive Director
Animal Rescue Team, inc.
805 896-1859
www.animalrescueteam.net