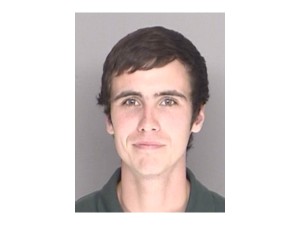 Santa Barbara – 21-year-old Kyle Barbre of Goleta was arrested today, June 21, 2016, and booked at the Santa Barbara County Jail on a charge of Animal Cruelty. The arrest comes after an investigation by the Santa Barbara County Sheriff's Office and Santa Barbara County Animal Services into allegations that Barbre had fatally injured his recently adopted, one-year-old Chihuahua dog named Floyd.
On May 23, 2016, an Animal Rescue Team representative received information about the alleged crime which had reportedly occurred around noon that day, The Animal Rescue Team representative called 911 at approximately 7:30 p.m. to report the incident. Santa Barbara County Animal Services personnel responded and initiated an animal cruelty investigation. The deceased dog's remains were recovered and a necropsy was conducted. Due to the fact the animal was recently adopted through Santa Barbara County Animal Services on April 5, 2016, the agency requested the Sheriff's Office take over as the lead investigative agency.
The Sheriff's Office conducted a thorough investigation and based on the evidence obtained, detectives secured an arrest warrant. Today, at approximately 1:30 p.m., they contacted Barbre at his place of employment. He was transported back to the Sheriff's Office, interviewed and then booked at the Santa Barbara County Jail for Animal Cruelty. Barbre is being held on $100,000 bail.